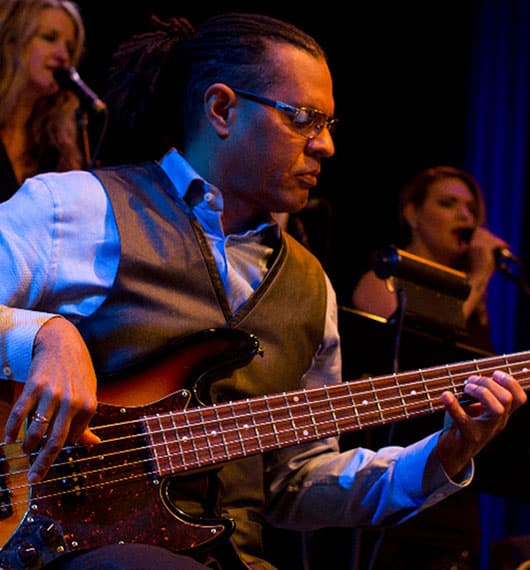 Etric Lyons is a renowned bassist out of Toronto who has performed, recorded and toured extensively throughout North America, Europe, Asia and Brazil with many of Canada's great talents in a career spanning over 3 decades. In addition to recording and performing with Alfie, Etric has toured with Molly Johnson, Liberty Silver, Jesse Cook, Colin James, Remy Shand, Esthero, Eddie Bullen and Philip Sayce – to name a few – and is also a passionate band leader of his own musical project called Kush that has played and toured Eastern Canada for corporate parties and has had residencies at various venues in Toronto. Kush was nominated for a Canadian Smooth Jazz Award in 2006 and Etric was nominated for his bass stylings in 2007.
Etric has been playing bass live and providing the vocal harmonies with singer/songwriter Serge Nikol since 2007 at the CopaCabana Brazilian BBQ Restaurant in Toronto. He has also composed and produced many original works for film and television. A sought after performer, Etric has enjoyed several tours with Canada's own Classic Albums Live as well as provided the upright bass music for 3 home grown theater productions (Cookin'at the Cookery, Wang Dang Doodle and Some Other Spring). When not performing,Etric focuses on composing and writing his own original works in many genresthat defy classification – all laced with varying sprinklings of his jazz,classical and electronica sensibilities. To learn more about Kush, please go to www.kush-music.com.
Audrey Ochoa, the trombone player from Edmonton is a serious musician and educator, but she likes to keep things light. Audrey performs with numerous ensembles including the Edmonton Jazz Orchestra, King Muskafa, Edmonton Jazz Collective, her husband Don Berner's sextet and her own jazz ensembles, which include the Audrey Ochoa Quartet. She has performed with such notables as P.J. Perry, Hugh Fraser, Lew Tebackin, and Hilario Duran and has appeared at numerous festivals including the Edmonton and Montreal Jazz Festivals. She recently released her debut CD, Trombone and Other Delights featuring guitarist Jim Head, pianist Chris Andrew, bassist Mike Lent and percussionist Luis Tovar. It is produced by the legendary Tommy Banks.
Audrey was a fun interview as she is quick to laugh and easily finds humor in her chosen profession. She can tease fellow musicians, yet spends time contemplating how a child will react to a musical explanation or theory. The cover of Trombone and Other Delights is a reimagining of a classic LP cover and she had plenty of fun with that photo shoot. The man behind the original cover, Herb Alpert, once mentioned to an audience that he couldn't play the cover. I suppose like everybody else in Canada, at some point, you are exposed to band in school and I decided that the trombone was the bee's knees.Nor can Audrey, but she can play almost anything else.
This recording has a light Latin feel, and there are a variety of styles and tempos to be found, all played by these very talented Albertans. Maybe you can even find humor in some of the sounds emanating from certain tracks. Audrey Ochoa had a hand in composing all eight tracks and you would never know that this was her first kick at the can. You might buy the album for the cover, but plan on getting a nice surprise when you finally play it. I did. Though, I'm still choked I wasn't invited to the photo shoot. Hell, I would have brought the strawberries.
Claudio Vena
Strings / Accordian
Gemini award winning composer Claudio Vena has had an eclectic career in the musical life of Canada. Born in Italy, his peasant roots formed a solid grounding upon which his musical stylings have grown.
As a composer for Film and Television he has scored 2 feature films, Silver Man, Peter Foldy director, staring Eugene Levi and Joe Pantoliano as well as co-writing the score of the feature Boy Meets Girl directed by Jerry Ciccoritti starring Sean Astin. He has scored numerous documentaries like the Gemini award winning score to TO in 24 directed by Dale Hildebrand and Johnny Lombardi, The Great Communicator directed by Grace Fusillo Lombardi. His arrangements were also used in the Norman Jewison movie Only You staring Marisa Tomei and Robert Downey Jr.
From 2001 till 2005, his music could be heard on a daily basis as the background music to the CBC television news shows, The National, Canada Now and The Main Network News. Along with this, he has written jingles for the Canadian market for Telus and Chrysler. He also composed a score for The Wanderers, a CBC Radio drama, directed by Damiano Pietropaolo.
In 2010, he composed 2 scores for theatre productions. An original score for the Canadian Stage production of Romeo & Juliet, directed by Vikki Anderson which played at Toronto's High Park outdoor theatre. He also composed an original score for the play Peter Pan, directed by Tim Carroll, which ran to critical acclaim for over 7 months at the world famous Stratford Shakespeare Festival. It was in 2008 that Claudio composed his first score for Stratford and that was for a production of Hamlet, directed by Adrian Noble.
He wrote an original score for new play called Words in the Dark, based on the Italian book, Parole Nel Buio, by Italian playwright Paolo Puppa. This play was a world premiere and was directed by Donato Santeramo.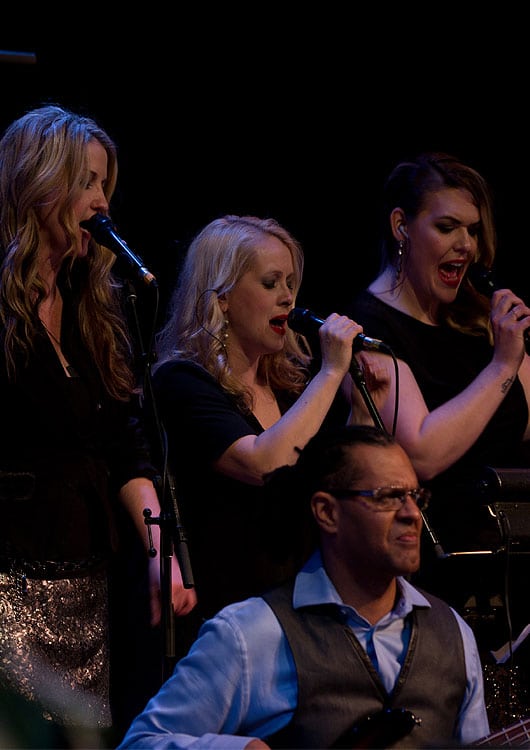 Johanna and Girls
Backup Vocals
JOHANNA SILLANPAA
Originally from Sweden, she carries with her a strong and sultry voice as she continues to make herself known on the international music scene. Sillanpaa's vocals are expertly clear, gently raw, and intensely bold and she has played everywhere from the intimate jazz joints in her small-but-tight musical community of Calgary to the Montreal Jazz Festival's 60,000-plus crowds.
Beyond filling venues in Canada and abroad, Sillanpaa's sound has also drawn its fair share of accolades and award nominations, including 2007 & 2012 Western Canadian Music Award nods in the Urban music category. At the 2010 Canadian Smooth Jazz Awards, she was nominated for Best Female Vocalist and Group/Duo of the Year. For more info visit Johanna's website: www.johannamusic.com
LYNDSEY HOFF
This Canadian country soul singer was raised on a ranch in rural Alberta and the first time she stormed the stage she was only nine years old. Her vocals are a cross between powerhouse Aretha Franklin and Joss Stone, making her stage presence undeniable.
Her debut album I'm Worth It was recorded in Nashville in 2014 and is a burst of love, loss, letting your hair down and standing in your power. Her co-writers, Denny Hemingson and Blue Miller, were an integral part of creating the sound and bringing her vision of this powerful CD to life. For more info visit her website: www.lyndseyhoff.com.
KAIT SHANE
Born in Montreal, Kathy was love struck real young with all things musical and anything with a 'set'. When choosing between singing and acting and voice-over she picked all three. It's resulted in heavy rotation airplay, an international voice over career, a long tv and theatre resume, and radio hosting. For more info visit her website: www.kaitshane.com.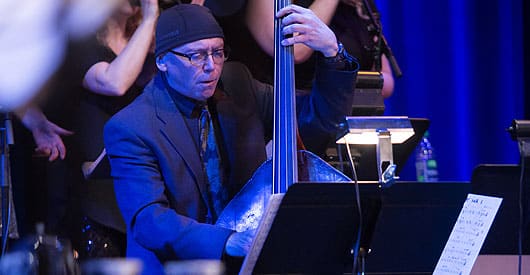 Mike Lent has long been considered one of Canada's premier bassists. Because of his skill, sensitivity, and versatility, he has backed great artists for more than 25 years. He has toured, performed and/or recorded with a long list of jazz, blues, and rock greats, including Sheila Jordan, Mike Nock, Mark Murphy, Jim McNeely, Lee Konitz, KD Lang, Jann Arden (Musical Director), and Long John Baldry. Mike has appeared on many international stages, including Royal Albert Hall and Radio City Music Hall, and on TV shows like Johnny Carson, David Letterman and Jay Leno.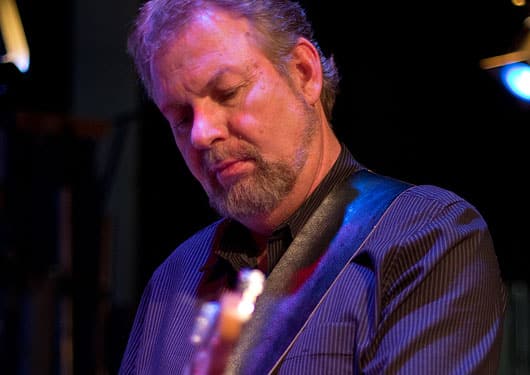 Come from a nationally recognized musical family.
Performed on radio at age 5.
Enjoyed early success signing a recording deal with London Records at age 17.
1st call session guitar player 70s and 80s (Edmonton)
Played in several respected groups including:
• Fifth Avenue Allstars
• Countdown
• Pazzpost